What's Urgent, Important, and NOT
We can't put out six fires at once. How to discern wisely in an age of mayhem?
Urgent. Important. Not urgent. Not important.
Most of us have scribbled the familiar quadrant at some point—a HR seminar at work, a life skills class in high school or college. One of those simple-but-clarifying tools that helps you realize how any given day is full of tasks that fall into different categories. Sorting allows you to prioritize and plan.
But the 2020 version feels like EVERY SINGLE THING IS URGENT AND IMPORTANT AND WHY DIDN'T YOU DO SOMETHING ABOUT IT YESTERDAY?!?!
We cannot live like this.
Setting aside the dumpster fire jokes, burn-out is real and rising right now. We're settling in for the long haul, but with no finish line in sight, we don't even know how to pace our endurance.
The human need for horizons has never been clearer.
Since it feels impossible to sort through what's urgent and important and what's not, I find myself resorting to this mental quadrant each day. (Did you know it's called the Eisenhower Matrix after the president who invented it?)
Not everything that's important is urgent. Whenever I jump into work without starting in prayer, I need to nudge myself to keep what is ultimate before my eyes.
Not everything that's urgent is important. Take Twitter, for example. Everyone is sounding their own alarm, but if I can't sort through the clanging, I can't help anyone.
And we all need a daily dose of what is neither Urgent nor Important. A small source of laughter, beauty, or joy. "Hard times require furious dancing," wrote Alice Walker. "Each of us is the proof."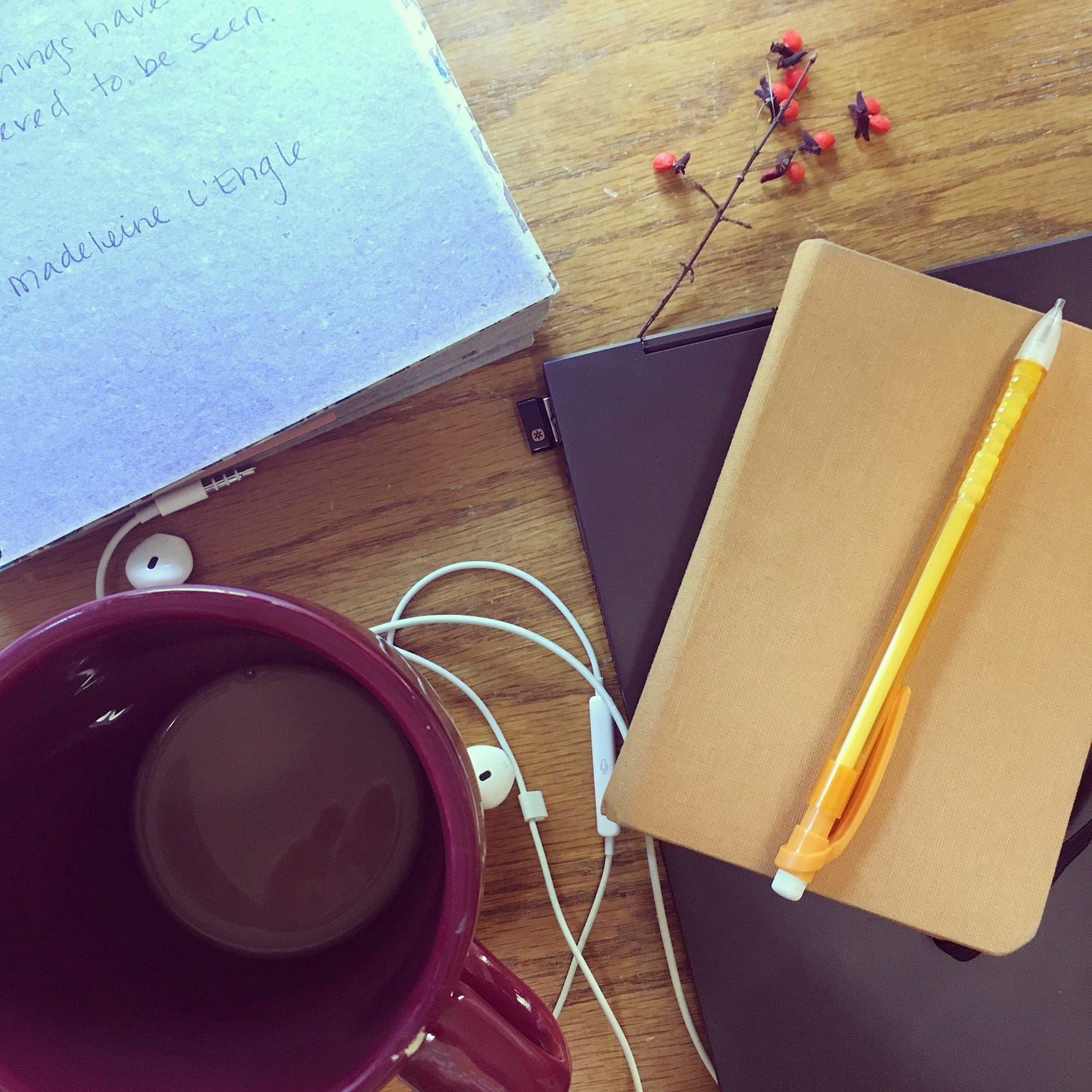 As a non-athlete, I will spar you any marathon metaphors. But as a writer, I will encourage you to jot down what's urgent, important, and not. Let yourself start to sort through whatever today brings: news or needs or yet another unbelievable headline courtesy of The Year That Won't Quit.
Remember: your holy labors are important, even when they don't feel urgent.
Our work for the Kingdom of God is slow, imperfect, and incomplete. But we get to work alongside the God who created us to create. We have co-laborers in the vineyard who can support and sustain us.
We can keep going. We just have to go together.
---
Urgent and Important
VOTE (if you are a US citizen). PLEASE MAKE A PLAN TO VOTE.
If you are a praying person, please bring the urgent and important work of faith into this season. Pledge to civilize your conversation. Read this interview on why we can't idolize our party loyalty. Join these friends who are offering Christ-centered meditations leading us into and out of the election.
Urgent but Not Important
Who among us is not doom-scrolling or distraction-diving into social media? Scroll on if you are the saintly few who aren't stuck here. (Or hit "reply" and please tell us how you do it?)
Every expert has told us to limit our screen time and news intake, but some days of 2020 are like black holes. How can we avoid being sucked in completely?
My sister and I are trying to get more writing done, so we've been texting (#ironic) to keep each other accountable on our screen time and social media use. Checking in with her has reminded me how much we need community to break the cycle of our addictions, big and small.
Give it a try: find a friend who wants to clear more mental space for deep work, and check in with each other throughout the week. No guilt, no shame, just encouragement for whatever we can do to cultivate small but growing places where good work can flourish.
Remember that we are living through history, after all.
Not Urgent but Important
Have you checked out the Ritual app yet? I've got three new Prayers for Worn-Out Parents up now: prayers for folding laundry, worrying at 3 am, and facing the Sunday night blues. Download the app for free to have it handy when you're at your wit's end!
Blessed is She just released their Advent book, aptly named Marantha (Come Lord Jesus). Grab your copy here. New this year is an Advent journal for kids, which is absolutely delightful!
As an introvert craving her own head space in a house with many people, I've been soaking in podcasts. Check out the work of my creative friends: Beth Williby started a lovely podcast called A Welcome Grace, and Alissa Molina is bringing thunder to Universal Voices, a new podcast lifting up diverse voices in the Catholic Church.
Leticia O. Adams and I had an honest, hilarious, heart-lifting (or was it wrenching?) conversation about grief as bereaved mothers on her podcast. Leticia's friendship and fire have been such gifts in my life.
Finally, I've been devouring episodes of The Good Shepherd and the Child. I shared a sneak peek into our family's homeschool version of Catechesis of the Good Shepherd, and I'm pulling together more resources to share in the next newsletter!
Not Urgent and Not Important
If you have not been texting McSweeney's articles to your friends as part of your collective survival strategy, what are you doing and please start here: On The Seventh Day, God Created Parenting, and Then Parenting Created Coffee.
---
To close, a simple prayer for the sleep-deprived: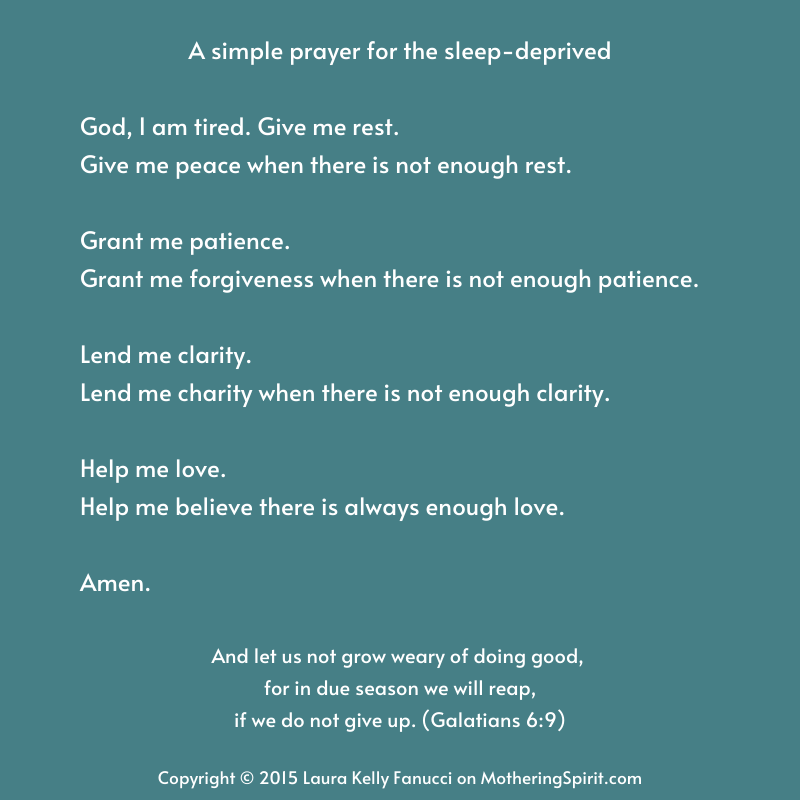 Peace,
Laura
Connect with me on Instagram | Facebook | Twitter
Find my books here: Everyday Sacrament | Grieving Together | Prayers for Pregnancy & Birth | To Bless Our Callings | Living Your Discipleship